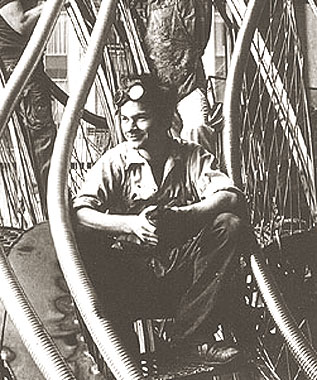 1976

Works with Red Grooms and the Ruckus Construction Company to complete RUCKUS MANHATTAN. Builds "Brooklyn Bridge" which is painted by Red Grooms. First shown in working site at 88 Pine Street in Lower Manhattan, and later installed in Marlborough Gallery on 57th Street. Meets Jackie Onassis, Henry Moore, Rudy Burckhardt, K. K. Keane, Ushio Shinohara, Alex Katz.

Works with Red Grooms and the Ruckus Construction Company to create RUCKUS RODEO. Builds "Brahman Bull" which is painted by Red Grooms. Show installed in Fort Worth Art Museum TX, Richard Koshalek, curator.

Works for Harmony Hammond to design and fabricate "VAN GOGH'S ROOM" for environmental installation at 88 Pine St. for Creative Time, NY

Works for Donna Dennis to fabricate "SUBWAY TUNNEL" and "COTTAGES" for exhibition in Kennedy Center, Washington, D.C. Meets Holly Solomon and Denise Greene.

Creates 16mm direct-animation color movie "FOOD COLOURING" (50 minutes). Premieres at 55 White Street, independent film theater, NY

First solo exhibition in NYC at The Artifical Gallery. Meets Judd Tully and Penny White.

1977

Edits Red Grooms' 16mm color movie, "RUCKUS MANHATTAN" (58 minutes) which is shown on CBS Television and is finalist candidate for nomination for MPAA Oscar as Best Independent Documentary Film. Distributed by the American Federation of the Arts.

Works with Kent Hines to fabricate Cynthis Carlson's "GINGER BREAD HOUSE" at P.S.1, Long Island City, Queens, NY

Visiting Artist at Kent State University, Kent, OH

1978

Moves to 280 Lafayette Street, NY. Meets artist neighbors Esteban Perez, Rene Santos, Keith Haring and Jean Michel Basquiat.

Shoots, Acts, and Edits Red Grooms' 16mm color movie, "LITTLE RED RIDING HOOD" (28 minutes) with Rudy Burckhardt and Yvonne Jacquette.

Performs in Sylvia Palacios Whitman's happening entitled "WHALE" at Guggenheim Museum, NY.

Works with Alex Katz to fabricate stage props for Paul Taylor Dance Company, "HOT DIGGITY" 24 life-size aluminum dog cut-outs and eight foot hgh green cabbage. Designs and fabricates multiple steel support concepts for new cut-out aluminum portraits. Meets Edwin Denby, Robert Wilson, Merce Cunnigham, and John Cage.

Publishes drawings of J. Kathleen White, "HOT WATER"

1979

First One Man Museum Exhibition at the New Museum of Contemporary Art entitled, "In A Pictorial Framework" which includes five consecutive solo exhibitions of "environmental art", a term which which would later be called "installation art." Meets Phillis Bramson, and Julian Schnabel.

Works for DIA Art Foundation as studio assistant for Robert Whitman to design and fabricate special fluid head tripod for 16mm camera. Creates movies to use during performance art. Prints black & white photos for book. Constructs unique equipment for performance art happening "PALISADE"at The Hudson River Museum of Art, Yonkers, NY, curated by Richard Koshalek.

1980

Shoots additional scenes and Edits Red Grooms' 16mm color movie, "HIPPODROME HARDWARE" (48 minutes) Gala premiere at the Village East movie theater on 2nd Avenue and 11th Street.

Installs "EASTER" (12' x 18' x 12' aluminum and steel sculpture) at Wave Hill, Summer Art Show, Riverdale, NY

Edited and re-mastered Red Grooms 16mm color movie "TAPPY TOES" (30 minutes)

1981

Appointed Vice President of Ruckus Construction Company by Red Grooms for new installation of RUCKUS MANHATTAN at the Burlington Building, on Sixth Avenue and 55th Street, NYC.

Joins Grace Borgenicht Gallery. Also invited to join Marlborough Gallery and Rosa Esman Gallery, but declines in preference of showing along with Max Ernst, Max Beckmann, Milton Avery, Ruben Kadish, and Jose Rivera.

Shoots and edits 16mm black & white movie "Dr. Jekyll and Ms. Hyde" (28 minutes) with J. Kathleen White, Penny White. Awarded "Golden Duckie" and selected for special commendation by director Jonathan Demme

Installs "LIZZIE & GAFFER HEXAM" (41' x 12' steel sculpture) at Art On The Beach, Battery Park City, Creative Time Inc. NY

Visiting Artist at Oberlin College, Oberlin, OH. Meets Bill Olander, Hudson, David Salle, Cindy Sherman, Ricardo Barretto, Paul Haner and Ellen H, Johnson.

Receives Garver Miller Award for three month residence at art colony, Ossabaw Island project, Ossabaw Island, GA

1982

Visits Japan to install Red Grooms exhibition at the Seibu Art Museum, Tokyo. Meets Makito Hayashi.

Films, Acts, and Edits Red Grooms' 16mm color movie, "SMALL FRY GANGSTER" (28 minutes).

Visiting Artist at Rhode Island School of Design, Providence RI

Visits Cozumel, MEXICO with Ellen H. Johnson and J. Kathleen White. Travels to Mexico City, Merida, Tulum and Chichen Itza.

1983

Solo exhibition at Grace Borgenicht Gallery, NY

Second one-man museum exhibition held at The Fine Art Museum of the South, Mobile AL.

Visits Minneapolis, MN to work with master printer, Steve Anderson, to make lithographs "Sea of Troubles" , "Lear" , and "Eve"

Visiting Artist at Hunter College, NYC

Visiting Artist at Colorado University, Boulder, CO

Visiting Artist at Ohio University, Cleveland, OH

Recomended by curator of High Museum of Art, Atlanta, GA, Peter Morrin, to spend three months at artist colony The Djerassi Foundation, near Palo Alto, CA. Visits San Simeon, San Luis Obispo, Big Sur and Carmel By The Sea.

1984

Third one-man museum show, held at Cleveland Center For Contemporary Art, OH. Meets Marjorie and Anselm Talalay and Nina Sundell.

Fourth one-man museum show, held at the Nelson Art Museum, Kansas City. MO. Meets Deborah Scott, curator.

Fifth one-man museum show held at the Kemper Gallery, Kansas City Art Institute, MO. Meets Sherry Lacey, curator.

Visiting Artist at Iowa State University, Iowa City, Iowa

Visiting Artist at Kansas City Art Institute, MO

Installs Red Grooms exhibition in Marlborough Gallery, London ENGLAND

1985

Invited for three month artist residence program in Guadalajara, Mexico with Galeria Clave. Meets Jose Clemente Orozco, Jr. Visits Porto Vallarta.

Invited to teach painting and drawing at MSU - Boseman Montana, as Adjunct Assistant Professor

Father is hospitalized for acute Emphyzema. Prepares family home for sale and parent's retirement to mother's hometoen, Columbus, NE

Installs "LIZZIE & GAFFER HEXAM" (41' x 12' steel sculpture) on exterior wall of Biloxi Mississppi Veterans Administration Hospital.

Solo exhibition at Grace Borgenicht Gallery, NY

Visits Boulder ,CO, to work with master printer Bud Shark on lithograph, "David Saunders Drawing Red Grooms Drawing David Saunders"
next >
1 - 2 - 3 - 4 - 5
* * * * *